April 23rd, 2007 | Categories: marketing, networks, off topic, trends
As a general rule, search engines are supposed to operate on an unbiased basis. Organic results are displayed in a logical manner and paid listings are clearly marked (in most cases). The concept of 'vertical creep' is a grey area that blurs the line between an unbiased search result and an internally-associated link.
Vertical creep is defined as a company-associated search result that appears above the organic results, but below the paid listings. Yahoo calls them 'Shortcuts', a seemingly useful yet sly name to make the result appear more user-friendly and less commercial - although we all know the true intention.
Essentially, if Google or Yahoo can display an appropriate, internally-linked result for news, weather, a movie, or an image search, then it is to their benefit as there is a higher chance they will maintain the user within the site. In other words, niche searches that could be performed using other in-house search tools vertically creep within the traditional results of the main engine (if this makes any sense).
Now at first, searchers were a bit out-raged at the idea but have since pulled back a bit. But now I noticed that Yahoo in particular is taking this idea to a whole new level. For any new movie search, such as '300' or 'Disturbia', a giant movie poster and description are displayed (see screenshot below). In addition, a searcher can also play the movie trailer or check local showtimes. Talk about unbiased. Only further down the page do we find links to the production company, IMDB, or perhaps Wikipedia.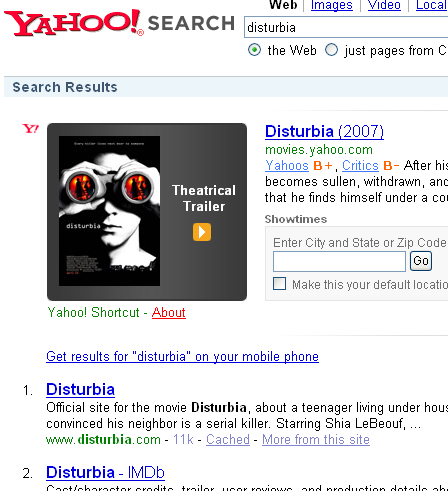 This blatant attempt at keeping searchers within the Yahoo properties is bound to be met with some controvery. I, for one, do not appreciate huge 'ads' that appear to be cleverly integrated within the organic results. Obviously this is purely a business move and an attempt at increasing revenues, as old flicks do not receive this treatment or exposure.
My hope is that search engines continue to operate without opinion or manipulation over the search results. Let the user decide where he or she wants to click. May the best result win.